Event Information
Sample Event


Join us on sample date
Come walk WITH us in Support of L'Arche Daybreak in Richmond Hill on May 12, 2018! Our goal is $85,000 towards building a stronger community!
We will be joined by many enthusiastic high school students,families,friends, and supporters. This is a family-friendly event with a BBQ, games, face-painting and a craft sale by the L'Arche Daybreak Craft Studio - just in time for Mother's day - at the end of the Walk.
The Walk is 5 km and starts at 9:00 am for late registrations and 10:00 for the start of the Walk on Saturday May 12, 2018 at Jean Vanier Catholic High School 10475 Bayview Avenue in Richmond Hill. The Walk ends at the L'Arche Daybreak property 11339 Yonge Street with music, a BBQ, activities and refreshments organized by the Student Council of JVHS and L'Arche Daybreak. Keep scrolling for more information and see the Route map.
Come on out and meet some of the fabulous members of Daybreak!
---
Information For Registrants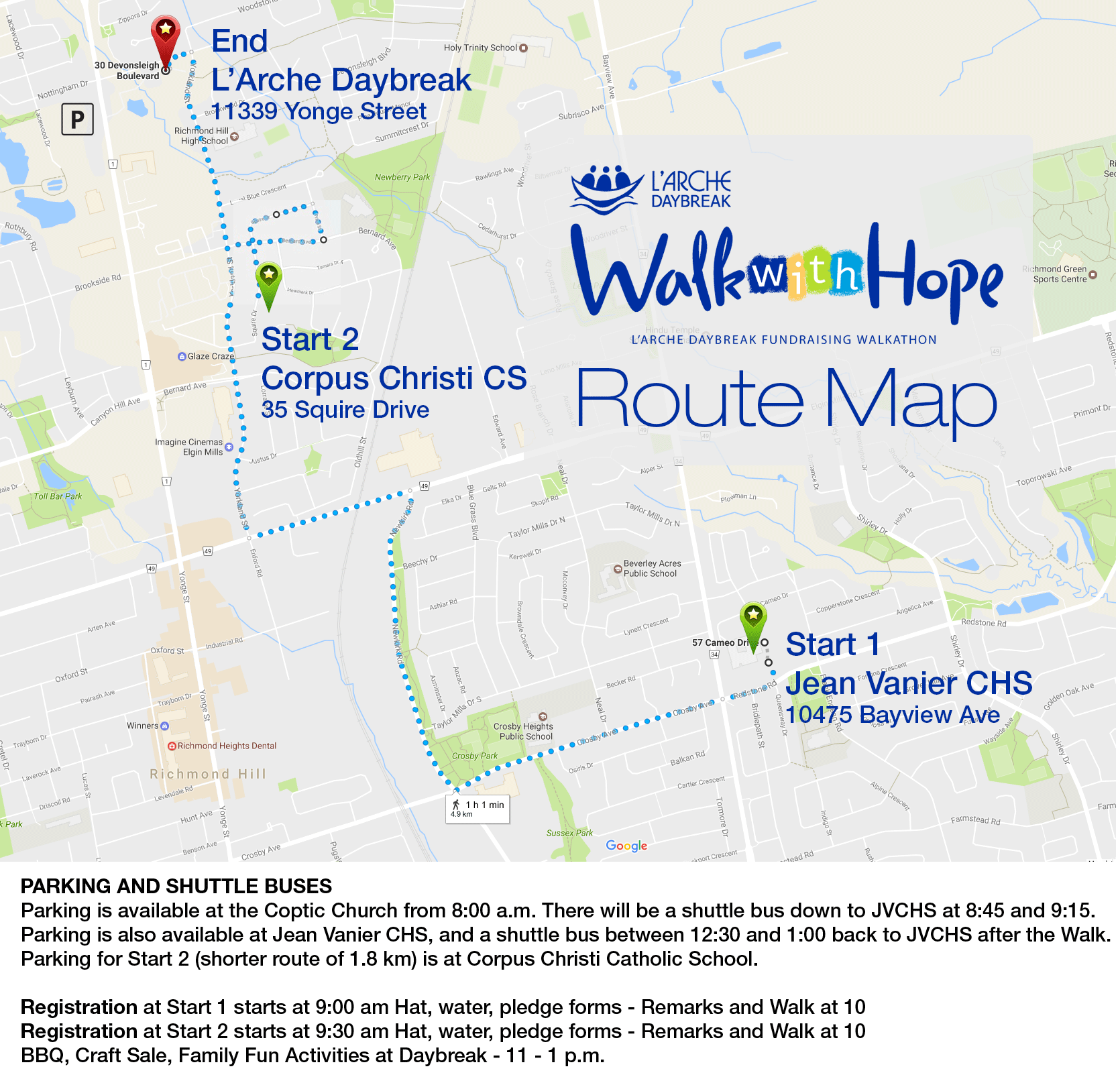 Pledge Forms for in-person donations
If you decide to fundraise in-person and would like to use a pledge form, please download it by
clicking here
.
The Walk WITH Hope ROUTE:
9 a.m. ~ 5 km Route At Jean Vanier Catholic High School 10475 Bayview Ave: Get your hat and water; late registrations and pledge forms also welcomed.
9:30 a.m. ~ Shorter Route starting at the entrance of Corpus Christi Catholic School 35 Squire Dr, Richmond Hill, ON L4S 1C6. Get your hat and bottle of water.
10 a.m. ~ Walk starts from JV and from Corpus Christi Catholic School.
11:00 – 1:00 ~ Finish Line Activities at L'Arche Daybreak 11339 Yonge Street games, Craft Studio ceramics, paper and candles, music, food, photo booth, and more! The food, snacks and activities are free to participants of the Walk, the crafts are for sale.
PARKING and SHUTTLE Service:
To have your car available at the end of the Walk, park at St. Mary and St. Joseph Coptic Orthodox Church 11308 Yonge St, Richmond Hill, ON L4S 1K9. Please note that the church is also hosting Doors Open Richmond Hill so parking at the outer edges is appreciated. We have a school bus which will make two trips down to the start line at Jean Vanier Catholic School, one leaving at 8:45 and the second at 9:15 from the L'Arche Daybreak parking lot nearest Yonge. You can also park at Jean Vanier CHS's parking lot. We will provide rides back to the starting line from L'Arche Daybreak between 12:30 and 1:00 *Parking for the shorter Walk is the parking lot at Corpus Christi. We will do our best to arrange transportation back to Corpus Christi but the shuttle is primarily for the Jean Vanier CHS start point. Please ask someone from L'Arche Daybreak after the walk if you need a ride back to Corpus Christi.
FUNDRAISING: What to Do with Cash and Cheques
Cash and Cheques written on the Pledge Forms: Add Cash and Cheques to your Pledge forms (
Pledge Form WalkWITHope-2018
). Fundraisers can bring the pledge forms with cash and cheques on the day of the Walk. We will have staff members receiving them. Tax receipts will be sent out to sponsors who contributed $20 or more so ask your sponsors to write legibly and enter their full mailing address. Please make sure the cheques and cash balance are dropped off as a package with a pledge form. Registering on May 12 - suggested minimum donation of $20 to cover the cost of the Walk. See you there!
What Are We Fundraising For?
This year, we are directing all fundraising towards welcoming and supporting people to our day programs. This remains a priority for families in Richmond Hill and York Region who are looking to find meaningful places of activity for their son or daughter. The Walk WITH Hope is a fundraiser and friend-building event where core members (people with disabilities) , assistants, friends, family, and hundreds of high school and middle school students from across York Region get together for a fun-filled morning. Sponsors like you help L'Arche Daybreak continue to offer a high quality of support and day activities to the dozens of people with developmental disabilities living in our homes or working in our programs.
Here are a few images from previous Walks
Walk for Hope 2013